Plant a Tree at Darden
By the end of 2023, more than 1,300 trees — ranging from dogwoods to Eastern redbuds to Japanese maples — will be planted in the five-acre arboretum and botanical gardens surrounding The Forum Hotel. This significant forestation investment is a reflection of the School's commitment to sustainability.
You can name a tree — or trees — with a gift of $10,000 per tree to support the new Arboretum Establishment and Sustainability Fund. This fund will support the creation and maintenance of the arboretum and gardens, which will provide an unparalleled destination on Grounds and capture over 30 metric tons of carbon dioxide annually. The trees will include a combination of native and global varieties, consistent with Darden's standing as a global business school in the Commonwealth of Virginia.
Naming a tree is a meaningful way to honor:
Your class or individual classmates
A favorite faculty member
A family member or loved one
A club or organization
Make a sustainable gift that will create a healthy Virginia forest and a greener Darden for years to come.
See the Forest for the Trees at Darden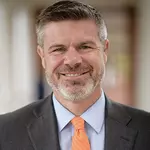 " A best-in-class business school must show leadership on issues of global concern, and few issues are more pressing than practicing and achieving true sustainability. While sustainability principles are incorporated into how we teach and learn at Darden, measurable environmental sustainability goals must be central to our mission: to inspire the next generation of leaders. "
Be a part of Darden's fulcrum moment.