Corporate Giving
Companies have a rich history of making an impact through giving at Darden. Initial funding to create the School came from a small group of Virginia business leaders who provided annual financial support and advisory expertise for the fledgling startup. Today, as a top-ranked graduate school with a global network, Darden partners with corporations around the world to maximize their engagement and support for the School and its strategic priorities. Through extensive opportunities for corporate support, Darden maximizes visibility, research, expertise and partnership for the corporations who invest in our path forward.
Ways Corporations Can Partner With Darden
Corporate Named Scholarship and Professorship Funds
Ways Corporations Can Partner With Darden
Darden's Corporate Partners enhance the School's community through demonstrated commitment on an annual basis to the success and future of the School and its purpose-driven leaders of tomorrow.
Support Faculty Research
Darden sets the world standard for teaching excellence. Corporate support of the Darden faculty ensures professors can continually enhance the Darden curriculum and conduct ground-breaking research. To read the latest thought leadership from Darden experts, visit Darden Ideas to Action.
Corporate Named Scholarship and Professorship Funds
Endowed funds ensure future generations of leaders are equipped to solve problems and seize opportunities. Creating endowments such as scholarships and professorships expands the world's exposure to Darden ideas and purpose-driven leadership in perpetuity.
Named Spaces
As new generations of leaders walk through the doors of Darden, they pay witness to the organizations and individuals who have invested in the Darden community. Named spaces throughout Darden's Grounds recognize corporations that have made meaningful contributions to the School, ensuring Darden's legacy for generations to come.
Corporate Executives Share Expertise
Positioning a New Company
The president and CEO of Fortive, one of Darden's Corporate Partners, shared his outlook on the difference his company will make in the future at a Leadership Speaker Series address to students.
Measuring Impact
Darden alumnus Kevin Klau (MBA '02), president of Hach Co. — a subsidiary of Danaher, a Corporate Partner at the Bronze level — discussed leadership and character with Darden students.
Sharing the Stage
Darden's Corporate Partners bring a wealth of expertise across a range of industries. Read more stories of incredible impact and successful partnership when corporations team up with Darden through corporate partnerships.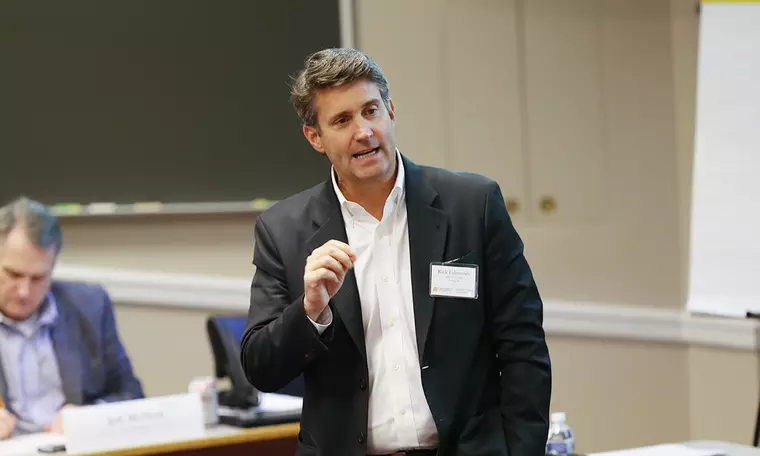 Connect the Dots
Be a part of Darden's fulcrum moment.