The Principal Donors Society is Darden's highest designation for lifetime giving, recognizing donors who have supported the School through philanthropic support of $1 million or more. The founding list includes many who are associated with Darden's establishment, history and facilities, and those whose vision and commitment led to — and continue to bolster — the School's surge to excellence.
Principal Donors have truly distinguished themselves as the School's most loyal stewards, investing in top priorities across Darden including faculty, research, scholarships, Grounds, student experience, unrestricted support and Darden's endowment.

Darden honors this extraordinary philanthropy on the entablature frieze of Rosenblum Foyer and PepsiCo Forum and donor recognition walls in the South Lounge and the UVA Darden Sands Family Grounds.

The prestigious levels of the Principal Donors Society include:

Jefferson Level: $25M and above
Madison Level: $10M–24.9M
Monroe Level: $5M–9.9M
Rotunda Level: $2.5M–4.9M
Colonnade Level: $1M–2.4M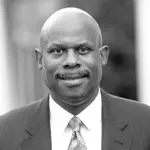 " Though we come here with different histories, different legacies, we all share the one common bond, and that is the love and respect for this great institution and the promise of its future. "
Be a part of Darden's fulcrum moment.