Foundation Giving
Philanthropic support from foundations is integral to Darden's success to date and aspirations for the future. Foundations with missions that align with the purpose-driven mindset of Darden partner to power the School's position as a global business school that improves the world. Foundations meaningfully impact each of the School's strategic priorities, elevating the best teaching faculty in the world; promoting innovative ideas and ventures; supporting cutting-edge technology; and empowering students from all walks of life to choose Darden thanks to grants that support thought leadership, scholarships, coursework, student experiences and so much more.
Stamps Scholars Program
Darden Stands Alone as Only Graduate School in Scholars Program
Read about the legacy of E. Roe and Penny Stamps, and meet one of the purpose-driven leaders who attends Darden thanks to their foundation.
McGowan Fellows Program
A New Fellowship and Leadership Opportunity for Darden Students
A partnership with the William G. McGowan Charitable Fund's McGowan Fellows Program opens a unique opportunity for Darden fellows to join a group of top peers.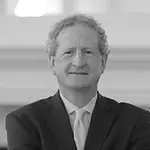 " Darden would not be the special place it is today without the generosity of foundations that support its mission. As Darden expands its offerings and enhances its educational experience, foundations will help fuel the aspirations of Darden to support groundbreaking research, launch impactful new programs, empower students and truly move graduate business education forward. "
Be a part of Darden's fulcrum moment.