UVA Inn at Darden and Conference Center for Lifelong Learning
One of the many experiences that binds students, alumni and community members alike is a stay at the Inn at Darden. Though the current inn has served the community well, the School has grown and changed since the inn was built several decades ago. The current facility no longer meets the growing needs of the School as a home base in Charlottesville for Darden Executive Education and Lifelong Learning clients, Executive MBA students during residencies, prospective students, MBA employers and other guests. Generous donors can support the completion of a world-class resource for the greater Darden and UVA communities for those important stakeholders and distinguished guests from around the world.
The new inn and conference center will create an unparalleled community experience to ensure that visitors' first impression of the School is an inspiring one. The facility will feature 199 hotel rooms; a conference center of up to 12,000 square feet, including a ballroom of up to 6,500 square feet; a destination restaurant; and a coffee shop. Adjacent to the inn and conference center is the beautifully designed five-acre arboretum and botanical gardens — a natural green space that will connect the Darden Grounds, UVA School of Law Grounds and the Rivanna Trail.
Offering an outstanding hospitality, education and conference experience is essential to Darden's academic mission to deliver transformational learning experiences for Darden Executive Education and Lifelong Learning participants and full-time MBA and Executive MBA students. The new, cutting-edge hotel and conference center will dramatically increase programming opportunities for lifelong learning.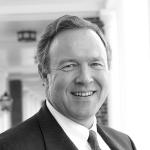 " The UVA Inn at Darden and Conference Center for Lifelong Learning will completely transform how Darden supports the community to ensure it remains a top-ranked business school. "
Be a part of Darden's fulcrum moment.