The Commons
A critical component of the Darden Grounds Master Plan includes investment in the core community spaces at the heart of Darden. This will include expanding the School's central space to create greater connectivity between students, faculty, staff and guests. Generous donors have the opportunity to make a transformational impact on the heart of Darden's Grounds and community. The Commons will upgrade student community and social spaces; enhance Darden classrooms and learning team areas; and physically join the Abbott Center, Saunders Hall and the Classroom Building in an open community area that incorporates inspiring architectural features and encourages collaboration.
This community gathering space will recast and expand the central halls of Darden and enhance the world's best business education experience. Existing classrooms and learning team rooms will be upgraded and connected to the outdoors. Revitalized dining areas will provide spaces for students, faculty and staff to gather together and share a meal, a critical part of any community. First Year learning teams are a hallmark of the Darden community, and the learning team spaces will be upgraded to foster increased collaboration, connectivity through technology and flexibility in student use.
The main commons will include inspiring architectural features, will improve connectivity and wash the space in natural light.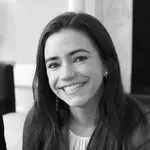 " What I love about Darden is that there are many opportunities to bond and really learn with your professors, but I wish that we could take it outside of a small 8-by-8 office. It would be really amazing to have collaborative space because oftentimes that's where you build upon the best ideas. "
Be a part of Darden's fulcrum moment.